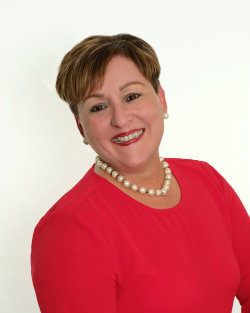 Yolanda Ulibarri, PA TEAM LEADER

Yolanda and her husband moved to Palm Beach County in 1983 to make a better life for them and their two small children. Hard work and dedication moved her from entry-level work to the highest sales ranks of some of the island of Palm Beach's most renowned hotels. Never one to settle, each new title brought with it a reputation for dedication, success and a desire to do more.

Yolanda earned her real estate license in 1996. She has since built one of the most successful sales teams at Keller Williams Realty Wellington, the highest-ranked real estate company in Palm Beach's western communities. With relentless energy and a positive attitude, she has won numerous awards for her work over the last 20 years, including: Consistent Top Producer, Platinum award winner for the last ten years!

But, her satisfied repeat customers and testimonials speak louder than the awards on her wall. She started her business small, serving the friends she made at St. Rita's Church, where she served as the head of the Spanish language choir for 20 years, and continues to serve as a part-time music minister.

In 1999, her client base grew to such proportions that she formed and headed The Ulibarri Team, an enthusiastic team of buyer's agents, which includes her now-grown children, Pilar and Javier Ulibarri, and Rob Yacavone, a New York implant, with a nose for the business. And a go-getting assistant, Lourdes Punal, who more than helps the team engine run smoothly.

In her free time, Yolanda enjoys spending time with her family and friends and traveling with her husband of 42 years. She also serves on the Agent Leadership Council (ALC), which works to raise money for the community.

Still not one to settle, Yolanda continues to find new and innovative ways to do more. She doesn't rest on the reputation she's built but continues to grow, to provide her clients with the chance to live the life they envision, just as she has done.




Rob Yacovone
Rob Yacovone has vast experience with Real Estate Investors is also experienced in helping people with all their real estate needs. Rob knows real estate is a very personal business and he brings warmth and caring to every transaction. He was also licensed in Texas where he cultivated his experience in real estate. He likes the team concept because it gives him more time with his clients providing them the best possible service.
Married and has two daughters in local area schools. He knows the community, it is important the agent who represents you has a good knowledge of the neighborhood, schools and services.


Javier Ulibarri
Javier Ulibarri has been a resident of Palm Beach County for 32 years. Attended Florida State University with a Bachelor of Science in Education and Sports Management. Currently resides and specializes in the Wellington area. He has attained experience in the sales industry for 20 years previously in sales for Red Bull North America, Clear Channel Entertainment and Comcast Universal. Dedicated to his passion for real estate. Javier is an honest and true professional who is knowledgeable in the real estate market and offers quality and integrity.


Since obtaining his Real Estate license, Javier has successfully completed hundreds of transactions of all types. Experienced in FHA, VA, Short Sales, Foreclosures, rentals as well as working with instate out of state investors.



Pilar Ulibarri de Rivera
Pilar Ulibarri de Rivera joined the Ulibarri Team not long after buying her first home. She studied journalism and English Literature at Florida International University and worked for 9 years as a local reporter for the Palm Beach Post, where she received knowledge of the county she calls home since the second grade.

She left the paper to pursue her new career as a mom to her two young daughters, and volunteers weekly in both of their schools. What Pilar brings to the real estate table is an understanding of what a family is looking for in a home, in terms of functionality and budget.

She has a knack for helping her clients envision spaces to work for their family's needs. She works hard for her clients!


Lourdes Punal
Lourdes Punal is the executive assistant of our team. She started in the mortgage industry where she was the supervisor of the closing department for a major mortgage company.

When her children were young she decided to stay home and be a full time mom, volunteering at her children's schools and sports events. She joined our team in 2013 with a good background of the Real Estate industry. She handles the files to make sure we meet all contract dates (inspections,deposits etc) and insure a smooth transition until closing. Lourdes in the office to answer any questions our clients might have before and after closing. This gives our agents more quality time with buyers looking for their dream home or sellers listing their properties. Lourdes also handles our social media,videos and flyers. She speaks Spanish and our clients love working with her.